Enclosed Carrier Auto Shipping
Enclosed Carrier Auto Shipping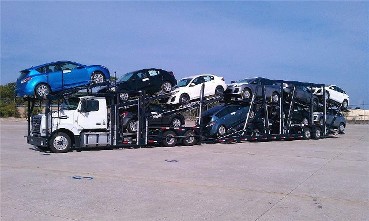 While not as common as open carriers, enclosed carriers have become a popular method for auto shipping. Vehicles loaded in enclosed carriers are protected from the weather and road dirt.If you're looking to transport a high-end or classic vehicle, a low ground clearance vehicle, or a vehicle with an exposed interior, enclosed vehicle shipping is the best option for you.
Pros of Enclosed Carriers
Enclosed carriers often carry more insurance per vehicle. Some enclosed carriers use scissor lifts rather than ramps and are better equipped to transport low clearance vehicles. You also won't have any of the road grime that can accumulate on open air carriers.
Cons of Enclosed Carriers
It usually takes longer to arrange auto shipping via enclosed carrier because there are less of them on the road. Shipping with an enclosed carrier generally requires more advance notice to arrange transport and this method is more expensive than open carrier shipping.
Contact us to learn more about our auto transport services in Texas and nationwide.