Open Air Carrier Auto Shipping
We Service Texas and Nationwide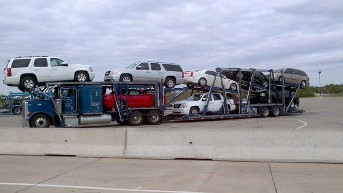 Open carriers are the most common way to transport vehicles. These familiar 10-car haulers are what everyone associates with auto transportation. An open carrier is just that, an open trailer. In most cases, open carriers are likely your best option for your dependable auto shipping.
Pros of Open Carriers
There are more open carriers on the road; therefore, your vehicle will get transported much faster this way. Since there are more of these types of carriers, they are less expensive than enclosed carriers.
Cons of Open Carriers
Your vehicle will be exposed to the elements. Even though we strive to deliver your vehicle in perfect condition, it is likely that your vehicle may have accumulated road dust by the time it is delivered, just as if you drove the vehicle yourself.
Contact us to learn more about our auto transport services.